Books
Seriously, God? Making Sense of Life Not Making Sense (2021)
Purchase on Amazon or Ave Maria Press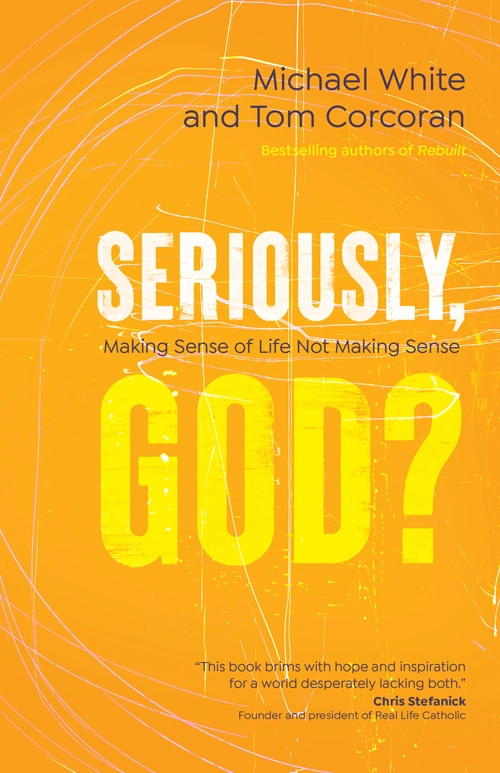 A friend's child dies; a parent gets a cancer diagnosis; your spouse loses their job. Sometimes life and God's plan don't make sense and we end up feeling hurt and angry.
In Seriously, God?, Fr. Michael White and Tom Corcoran explore the denial, doubt, and betrayal we experience when we face hardship, pain, and grief, and they encourage us to lean into our feelings and to take each circumstance as a chance to learn more about God.
Drawing on personal anecdotes and stories from their parish, White and Corcoran—authors of the bestselling and award-winning book, Rebuilt—share important lessons, including:
Even the heroes of the Bible—such as Abraham, Moses, David, and the apostles—experienced situations that caused them to misunderstand God.
There is joy in knowing we will forever be getting to know God.
Even though life often doesn't make sense, we shouldn't assume God doesn't make sense.
For anyone who has battled suffering, walked away from faith under the pressure of crushing doubt, never felt safe giving faith a chance, or cared about someone who struggles with these realities, this book treats the problems of suffering and evil not as an argument to be overcome but as an invitation to a deeper faith.
Each chapter relies on biblical stories that provide a wonderful introduction to scripture to those who are not familiar with the Bible and a fresh perspective to those who are. Each chapter also includes questions for self-reflection and discussion. A free parish small-group guide and videos from the authors are available online.
This is a perfect book to give as a gift to friends or family members who are grieving, those struggling with doubts about their faith, or those who are new to faith.
Churchmoney: Rebuilding the Way We Fund Our Mission (2019)
Purchase on Amazon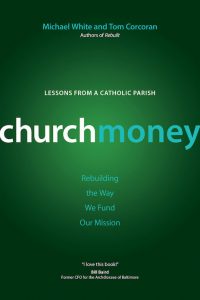 Money is always a touchy subject in Catholic churches: Pastors don't want to ask for it and parishioners don't want to hear about it. But it takes money to run a thriving parish.
In ChurchMoney, Michael White and Tom Corcoran—award-winning authors of the Rebuilt Parish series—share stories of success and failure. They tell us what they learned to meet the real financial challenges of their mission. They offer the practical wisdom and inspiration you need to tackle the thorny matter of raising money in your Catholic parish.
White and Corcoran know from twenty years leading Church of the Nativity in Timonium, Maryland, that it's no fun working in a parish struggling to pay the bills. Without money, you can't hire staff to provide the programs you want to offer. You constantly have to beg parishioners to give. You grow frustrated and angry when they fail to respond.
Does this sound familiar?
In ChurchMoney: Rebuilding the Way We Fund Our Mission you will learn the basic skills you need to discover that true success in raising funds comes from the incredibly freeing approach that connects giving to discipleship.
White and Corcoran share lessons learned, facts discovered, habits formed, and great ideas they've implemented from some of the most successful and vibrant churches in the United States. ChurchMoney offers a field-tested and proven plan for raising money in parishes. It's readily adaptable, firmly rooted in the reality of leading a Catholic parish, based on the Bible, and finessed with the best advice of communication professionals.
Rebuilt (2013)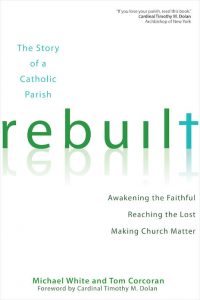 Rebuilt is a story of stopping everything and changing focus.  Fr. Michael White and Tom Corcoran reveal how they gleaned wisdom from thriving megachurches and innovative business leaders, anchored their vision in the Eucharistic center of Catholic faith, and brought their parish back to life.  Their vision and strategies are presented here with a wealth of guidance for anyone with the courage to hear them. In their much-demanded second book, Tools for Rebuilding, Fr. White and Tom lay out seventy-five proven tactics to introduce people to Christ and make them disciples.
In Rebuilding Your Message the award winning authors share their carefully honed communication practices to help priests, staff, volunteers, and parishioners more effectively proclaim the irresistible and life changing Gospel of Jesus Christ.
Rebuilt Ave Maria Press: Notre Dame, IN: 2013.
Tools for Rebuilding Ave Maria Press: Notre Dame, IN: 2013.
Rebuilding Your Message Ave Maria Press: Notre Dame, IN: 2015.
The Rebuilt Field Guide Ave Maria Press: Notre Dame, IN: 2016.
Churchmoney Ave Maria Press: Notre Dame, IN: 2019.
These titles are currently available at:
More information about the book, including resources for your parish, can be found at http://rebuiltparish.com.