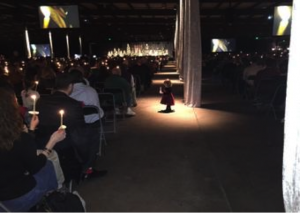 Well, we had a beautiful and inspiring celebration this year at the Maryland State Fair for Christmas Eve. Several observations noted in passing, in no particular order:
– It was our 10th year there and to mark the occasion we had perhaps about 10,000 people, fairly well distributed between the two Masses. There were 4,484 chairs, all filled, with some standing room at both the 4 and the 5:45, thus the estimate of 10,000.
– Probably the Cow Palace looked nicer than ever this year, at least as long as the lights were out and the candles lit. Thanks to all our ops teams.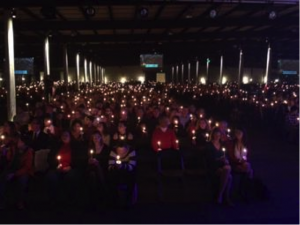 – This year we transitioned to a contemporary style of music more consistent with our parish music program. It was worshipful and joyful and, I think, well received. I am glad we made the decision to do it and would like to thank those on staff who pushed me in that direction.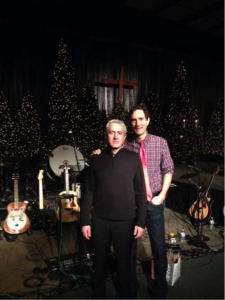 – The heroes of the evening were all our member-ministers, hundreds strong, who made the whole thing happen. But all of them would easily agree that the most challenging service was undertaken by the parking team. In the cold, in the dark, in the rain, they kept everything moving.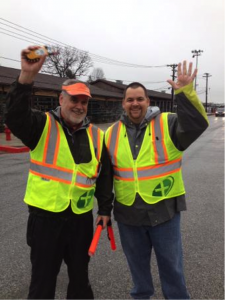 – The "pre-show" was fun and funny, but also touching too with greetings from our mission partners and an amazing video featuring some of our own parish kids.
– The highlight of the evening was, without question, the Time Traveler Kids singing and dancing to "Born is the King." It got people actually dancing in the aisles. How nice to see people in church on Christmas Eve happy.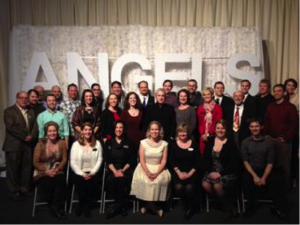 Thanks finally and sincerely to our parish staff and music ministers who led the effort and had the vision to make it happen.
Somehow we will have to figure out how to top that.