Brian, Tom and I arrived in LA on Monday, around mid-day, after many, many hours of travel and delays. We rented a car and drove to Malibu, through a surprising lack of LA traffic. We were staying at the Serra Monastery, a beautiful facility, with stunning views of the Pacific. It was the location ABC used for a popular TV program a few years ago called "The Flying Nun." The beauty of the setting notwithstanding, the accommodations were simple and spartan, being, after all, a monastery.
We were the guests of the Simon Foundation, who is launching a new organization called the Parish Catalyst, with the mission of giving fresh impetus to parish life and ministry. The purpose of the conference was to bring together 12 of the most dynamic and successful parishes from every part of the country to discuss shared problems and best practices. We also reflected, within our own teams, on our strategic planning for the next six months and agreed to meet again at that time to report on our progress and be accountable to the group. A highlight of the conference was spending Tuesday morning with Rick Warren. Rick is a brilliant teacher and a loving pastor and we were thrilled that he noted he has read both  Rebuilt and Tools and loved them.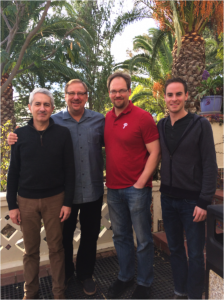 Wednesday we wrapped things up by mid-day and said our goodbyes. Brian and I took Tom back to the airport so he could get back to his family and everything waiting to be done at the office. Meanwhile we found our way over to Pasadena, a charming old town north of LA. We are staying here in the parish preparing for a daylong presentation for an organization called the Parish Leadership Network, bringing together about 75-100 parish leaders from every part of this sprawling archdiocese. Along with our message preparation we have been taking in some of the sights, like the Rose Bowl, the LA Cathedral and a fierce contest between Arizona and the Bruins.
We will spend one day at St Monica's parish, one of the largest and most successful Catholic parishes in the whole country, and another day at Pastor Rick's  Saddleback Church, one of the largest churches of any kind, anywhere, because we are here to learn as well as teach.
On Wednesday we give two final conferences, one to the priests of the Diocese of Orange and , that evening, to the parish leadership of that diocese. Since we will finish up late that evening, we will make our way home on Thursday. I will be back in the office on Friday, and Brian will return to his usual schedule on Sunday.
Meanwhile, thanks to our wonderful staff and ministry leaders who do what you do week in and week out, keeping things moving forward at Nativity. Ultimately, it is you who make it possible for our church to be a teaching church with a truly national reach.