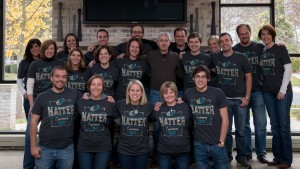 Friday, November 8 we hosted our first ever conference for other churches. We called it "matter." The purpose of the conference was to inspire, encourage, equip and challenge Catholic parishes to awaken the faithful, reach the lost and make church matter.
The conference sold out 550 seats; we added 50 more and they sold out too. Besides the 600 in attendance, well over 2,000 devices logged onto the conference on line. Attendees came from 25 different states and Canada, representing hundreds of parishes. In attendance were pastors, religious educators, youth ministers, and every other kind of parish minister you could name.
Three keynote addresses, more than a dozen breakouts, amazing music, fun and fellowship, it was an incredible day. While our staff will, in due time, critically evaluate the conference, for the time being we're just enjoying that feeling that comes when most everything goes as planned.
There are a hundred stories I could share from the day, and others on staff probably have even more. Like the night before the conference when a group of us were out to dinner, where we were approached by another group from a parish in Tennessee. There were 25 of them and they wanted to tell us they were very excited. Or the woman one of our staff ran into who was weeping after the opening session.  The staff member reached out to comfort her and she said "There is hope for my parish." Or the pastor who came up to hug me and thank me and said, "I feel like I'm not alone any more in this."
I could tell lots of stories, but one moment sort of sums it all up for me. At the end of a long day, all our volunteer ministers (100 + of them) were standing the Great Hall (because there were no seats for them in the church). And as the guests began to exit our ministers spontaneously formed a kind of chute for them to pass through. And then they did something else, also entirely spontaneous: our ministers began to applaud our guests. More than a few of whom left in tears.
That evening I went home thinking: today we were the kind of church we want to be.
Our conference director, Kellie Caddick, joins me in thanking everyone who helped make matter13 happen.